Table of Contents
The Triangle Denizens of Doom are proud to have participated in the NCDOT Adopt-A-Highway program for a period of 2 1/2 years starting in 1997 and ending in 2000.
The section of road that we were responsible for was Bahama Road (SR1607) from the intersection of Tilley Road (SR1608) and Hall Road (SR1611) to the Flat River Bridge.
It was approapriately labelled with the standard Adopt-A-Highway signage as well as a sign identifying us as the adopting group.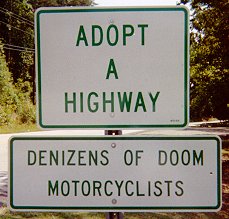 Successful Cleanup Dates
August 17, 1997

December 14, 1997

March 22, 1998

July 26, 1998

October 18, 1998

January 17, 1999

April 18, 1999

July 18, 1999

October 24, 1999

January 2000

April 9, 2000
Useful Links
Household Hazardous Waste Information
Need to drop off oil? Radiator fluid or old batteries? Info on hazardous waste disposal in Chatham, Durham, Orange, and Wake counties.